Easy answer, the one that diminishes pain and discomfort so you can reduce the amount of medication you take.
Whether it's back pain, shoulder pain, or in fact wherever your problem area is, coping with it invades all areas of our life. It impairs daily activities, affects sleep, (in fact sometimes sleep is just non-existent), makes concentrating on work difficult, exercise impossible and affects our mood. So getting the best TENS unit could be of great help.
Fortunately Tens units are more accessible and much cheaper than they used to be when you had to have a medical prescription.
By the way, any links on this page that lead to products on Amazon are affiliate links and I earn a commission if you make a purchase. (This is at no additional cost to you.)
Best Tens Unit Under $100
Choose Your TENS Unit Carefully
TENS therapy is an efficient, tested way of treating pain at home. Healthcare professionals agree that these machines can help people cope.
Nevertheless, it's advisable with your healthcare provider before getting a device. Particularly important if you're on medication and have some pre-exisiting conditions. While many people reported that they reduced the use of medication after introducing a TENS unit into their routine, this is not always the case.
Since it's your health we're talking about, you should make sure that the product you get is going to meet your needs.
Check out our introduction to TENS units if you're just getting your thoughts together about these units and want to get a comprehensive overview.
8 Considerations
Portability
Power
Battery Life
Modes
LCD Display
Adjustable Timer
Electrode pads
Manufacturer
With an overwhelming number of products available making a choice that suits your individual situation and specific needs is hard. These are the differences your should look at.
1. Compact Design And Portability
If you're using the tens for electrode muscle stimulation training, add it into your gym bag and get ready to work.
Take the device with you to work, or when you travel. (If you're struggling with back pain, having the best TENS unit for back pain with you can be a life-saver.)  
It's a good idea to purchase one that offers full mobility. Wireless units further boosts their functionality.
Portable machines are battery powered, which makes them ideal for traveling purposes.
Getting a portable device has many benefits and a smart, practical design is the preferred choice for many people.
2. Power Potential
TENS units have distinct power ratings and intensity levels.
Simply put, the more powerful the device, the stronger the stimulation will be.
Note that the number of intensity levels doesn't influence the potential strength of the device. In other words, if the machine has 50 levels, it doesn't necessarily make it stronger than a device equipped with 25 levels.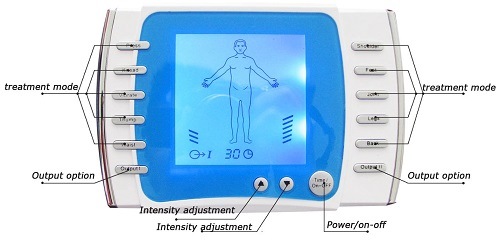 Some manufacturers specify the current intensity (strength) in mA. Typically it will be in a range of 8-80 mA. Nevertheless, from what we've seen, this type of information isn't necessarily available for all the devices in the market.
Looking at customer reviews can be helpful. If you find a review of a tens device from someone who has had a similar issue to you and found the device effective it's a helpful guide to know what to expect.
3. Battery Life
There are some state-of-the-art devices equipped with built-in lithium rechargeable batteries. Rechargeable batteries are advantageous since they are convenient and cost-effective.
You won't have to worry about replacing them on a regular basis. It's true that a rechargeable machine may involve a bit higher initial investment so take into account the lifespan of the battery, and determine which option meets your budget and how much you think you'll need to use the tens.
4. Modes
The majority of devices in the market feature preset programs/modes. The purpose is to make the units more user-friendly.
Other machines have fewer modes of operation. Although they do offer fine-tuning of your treatment you should note they need more user-input. In other words, you'll have to get acquainted with options such as wavelength and pulse-width.
The devices featuring preset modes require less work to operate. Therefore these are often the preferred option for first-time users of a tens.
5. LCD Display
We like that state-of-the-art TENS units feature large LCDs. These offer relevant information such as the time remaining in the cycle, the overall duration, intensity, etc.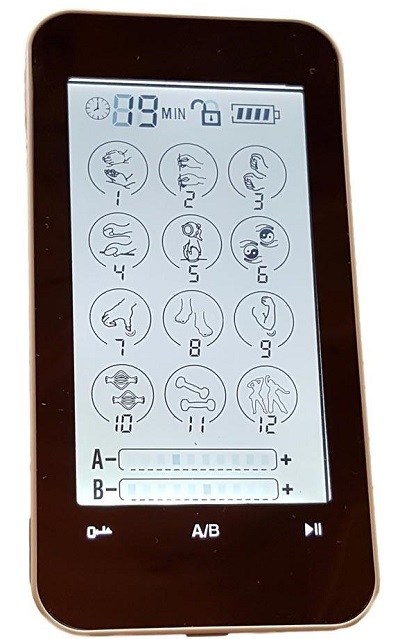 There are models with a touchscreen, as well, which make the devices more user-friendly.
6. Adjustable Timer
Some TENS units are equipped with adjustable timers. This option lets you customize the duration of the nerve stimulation session.
7. Electrode Pads Quality
Choosing your electrode pads is just as important as selecting the TENS unit. You should know that electrode pads have to be changed regularly. Investing in high-quality replacement pads means that you should get a lot of more use out of them.
It's true that looking for replacement pads for your TENS device can be confusing. Essentially consider the area on which you plan on using the pads. You should know the connection type utilized for the TENS.
Check the manufacturer's instructions for how to use the electrode pads and their proper maintenance.
We have more on the topic of maintaining a TENS machine in our previous article – make sure you check it out.
8. Customer Service
Choosing an item produced by a reliable manufacturer is worth keeping in mind. that you'll get a lot of use out of the device. On that note, you should always consider the manufacturer you're buying from.
Looking at customer reviews is a good idea since it can give you insight into how the manufacturer manages complaints and problems.
Not even the best TENS unit lasts forever. So, make sure you check the manufacturer's warranty. Some include a limited lifetime warranty, while others facilitate only 90 days of warranty.
These are our recommendations:
HealthmateForever T12AB Tens Unit
This HealthmateForever T12AB package has a lot to offer. The package consists of a TENS unit, 2 series of pads – each of 2.5 inches, 2 electrode leads, a USB extension wire and 
The pads are meant to work on different parts of the body, featuring 2 distinct levels of pain relief.
You can regulate the intensity level of the massage manually. 
As for managing the settings for distinct areas, it's easy to do that with the two separate controls.
One of the many aspects that make a product a best-buy is its user-friendliness. And on that, we could easily argue that the T12AB is super; it's a breeze to use.
The big LCD screen contains all the necessary settings for a smooth operation. Also, you can use the device at night-time, without the need to turn on the light.
The machine enables you to select from 12 therapeutic modes of use. Each of them has its own power and intensity. Simultaneously, you may set your own time, thanks to the timer. In other words, you could opt for the maximum treatment time of each session, which is up to 80 minutes.
OUR RATING 4.8/5
After testing the gadget for days, we determined that it could pass as the best TENS unit for shoulder pain. Also, it does a great job at treating pain as a result of injury or surgery.
Pros
User-friendly operation
It targets all types of pains
The unit provides results similar to those you would get in a chiropractor's office
Portable
Adjustable timer
Large LCD display
Cons
Expensive compared to other products on our list
In fact, we think that this gadget could successfully replace your regular visits to therapeutic massage.
The instructions offered by the manufacturer are useful. They describe the way in which each setting works.
Another feature worth noting is the portability of the device. You can place it in your bag or backpack, and it won't trouble you in any way.
Furthermore, thanks to the double channel, you could easily use the gadget on 2 areas at the same time. In other words, you would cut the massage time in half.
The auto-adhesive pads are also helpful. And, most importantly, they stay put until the massage session is over.
Runner-up – iReliev TENS Unit
This is another excellent product that offers relief from joint and muscle pain. The electro-massage you experience during a session is similar to a massage given by a therapist or chiropractor.
We like that it's portable. In fact, the machine is the size of a credit card. That means you can carry it around wherever you need. It can fit your pocket or purse easily.
After delivering plenty of tests, we determined that the low mA pulses are equally efficient and soothing. In fact, the likelihood of experiencing any side effects is reduced. Over time you might find that you can reduce pain killers from your routine.
Similar to other units on our list, this one is also equipped with two channels. So, you could use either 2 self-adhesive electro pads or alternatively use all 4 and cover more painful areas on the body.
Best Tens Unit Under $100
HealthmateForever Pro15AB TENS Unit
An FDA cleared TENS unit, the Pro15AB is a top choice. 
This useful unit has 15 distinct choices allowing you to select the mode of operation that best suits you. Switching the operation mode is easy, simply press the M button. It doesn't take long to learn how to use the unit.
(By modes, we're referring to the types of massage/pressure for example tapping, acupuncture, deep tissue massage, cupping etc.) And you can benefit from toning and strengthening applications if you're body building.
Choose from 20 levels of adjustable intensity settings.
2 independent channels (A/B) with the ability to control the intensity separately. The adjustable timer is another worthwhile characteristic that useful and you'll find handy to have. 

The LCD display gives a clear indication of the most useful information needed.
Another big advantage is that the package includes a powerful, long-lasting lithium battery. As I've mentioned, battery life is one of the most important considerations when you're looking for a reliable product. This is particularly important if the unit is going to be used by more than one person.
Pros
Easy to use
FDA cleared
15 pre-programed modes of operation
It's effective in treating a broad range of pain
Lifetime warranty provided by the manufacturer (Note: cover is valid for US and Canadian purchases made) 
Cons
The independent channels share the 100% power allocation (ie choose 50/50; 60/40 etc)
In our opinion, the Pro15AB is worth serious consideration. If you're coping with chronic pain, you may be able to replace your regular visits to a massage therapist, or at least cut down on the frequency of appointments.
Of course the fact that the product is FDA cleared gives an extra sense of peace of mind that it's safe to use.
On a final note, we consider that this device could assist anyone struggling with mild to severe pain, anywhere in the body. Researchers at HealthmateForever have put thought and attention into creating a product that meets the needs of its clients.
And one of the best things, you benefit from a limited lifetime warranty. It's one of the best-rated TENS units for good reason.
iReliev TENS Unit - ​Massager Unit Bundle for Pain Relief
The control screen features LCD light which is a useful feature. The information on the screen is easy to read.
Depending on your needs, select one of the 8 pre-programmed modes. Plus, you could also adjust the timer as you wish, ranging from 5 to 60 minutes.
A useful addition is the battery indicator. In other words, you'll know when the batteries need changing. A possible pitfall could be that the batteries aren't rechargeable, which would have been more convenient.
Pros
Useful battery indicator
2-year warranty
Affordable item
Adjustable timer
Portability
The device is equipped with 2 channels
Cons
The batteries aren't rechargeable; limited battery life
The item could be more user-friendly
Nevertheless, considering the affordability of the unit, we could ignore that. As a general rule, the batteries are prone to last up to 150 hours. Even so, this will depend on the settings you pick and the amount of time you use the device.
Obviously, you can control the intensity level of the massage. Also, you can save your preferred settings for a boost of convenience.
The manufacturer supplies a 2-year warranty, and 100% money-back guarantee, if you're not satisfied with the product up to 14 days after purchasing it.
On the whole, this item could be the best tens unit to buy if you are on a tight budget.
Winner – United Surgical Tens Unit
If you're on a budget, but still want to enjoy pain relief by getting the best TENS unit you can, then this unit by United Surgical would be a decent pick.
The package includes the TENS device, one complete set of electrodes, lead wires, instruction manual, 9-volt battery, and a carrying case.
We advise you to be careful when you use the device for the first time. Initially, you should familiarize yourself with the device and its settings. So, you should set up the unit at the lowest setting, and, afterward, adjust it based on your comfort level.
One of the many excellent things about this item is that it delivers immediate results. As for the pads, they're comfortable to wear, since they aren't too sticky. They offer excellent adhesion.
image source: ebay.com
OUR RATING
Take into account that the more you use the device, the sooner the pads will wear out. So, make sure you stock up! From our tests, we noted that you could get up to 8 treatments per pair of pads.
Pros
Simple set-up process
Easy to use
The 2 separate channels allow you to customize your experience
Complete set consisting of everything you need
You can use the device up to 48 hours continuously, with the included battery
Cons
Fewer settings in comparison with other similar devices
There is a likelihood to get a faulty item, which would require replacing it under warranty
It's not as durable as other items from our list of recommendations
The fact that you can regulate the settings is also a bonus. If you suffer from lower back pain, residual pain in the legs, or pinched nerves, this will work excellently.
On the whole, we find that this is a quality item that works extremely well for the price. Its durability could be enhanced, and some customers had gotten faulty devices that needed replacement.
But leaving that aside, it could pass as the best TENS unit for neck pain at a decent price.
Alternative – Pure Pulse Duo TENS Unit
And our final recommendation for the best TENS unit is this device by Pure Enrichment. As the name already suggests, this unit incorporates both TENS and EMS technologies.
To clarify, TENS technology aims at providing pain relief. Meanwhile, EMS technology promises to enhance muscle endurance and strength. By getting this gadget, you get the best out of these two technologies.
There are 8 pre-set modes for TENS and 6 preset modes for EMS. Each of these modes supplies a certain level of stimulation, pulse width, and frequency. You should also choose the mode of use depending on the type of pain.
This is, presumably, the best TENS unit for the money, especially since it also delivers the advantages associated with EMS technology.
As for the EMS modes, they are great for people who perform high-intensity training or sports. EMS warms up the muscles, by using an electronic massage system. You should test each mode and establish which one fits your needs best.
OUR RATING
What about the intensity levels? According to the manufacturer, you may select one of the 25 distinct intensity levels. These range from very gentle to very intense. You have the option of controlling them independently.
For example, if you suffer from acute back pain, and the right side troubles you more than the left side, you can alter the intensity independently.
Pros
Two modes
Various programs to choose from
Dual channel
User-friendly
Extended warranty
Auto shut-off function
Cons
Non-backlit LCD
Non-rechargeable batteries
Furthermore, we can assure you that operating the item is a piece of cake. The LCD display includes all the essential information you should know: the programs, intensity levels, modes, channels, and time left in a session.
Weighing only 12.8 ounces, this gadget is the size of an iPod, making it the best portable TENS unit.
And lastly, but not least, the item has 3 years of warranty offered by the manufacturer. Just bear in mind that the warranty applies only to the main controller.
We hope that this buying guide helps clarify the right choice for you. It's important to assess your needs and the features you consider to be mandatory in the best
TENS unit
. And, of course, you can use our recommendations, since each product reviewed in this guide has been tested several times in advance. This way, you can depend on our reviews. On a final note, we advise you to discuss with your doctor before you altering your medication – in case you're taking any for your pain.
Additional resources: